You're the Best Mom in the World!
Congratulations! If someone sent you a link to this page, that means that they think you're the Best Mom in the World! Maybe your son or daughter sent you here for Mother's Day. Maybe your own mother sent you here  to let you know she thinks you're doing a great job with your new baby. Maybe your best friend saw how you handled the potential crisis in the restaurant the other day and wanted to thank you for averting disaster. Or maybe you just think you deserve it because you've had a rough day with the kids and think you've earned a little pat on the back for not packing up and driving to Reno without even leaving a note.
Nominations
Want to nominate someone who deserves it? Email them, IM them, or tweet it!
Acceptance Speech
To accept your award, leave a comment at the bottom of the page. In your acceptance speech, tell us what you did to deserve the title of Best Mom in the World. (You may just win a prize!)
You will be the reigning winner until another mom accepts the award. (But much like the President of the United States, you can use the title forever, even when your  term is over!) You may accept the award as many times as you wish, but please allow at least 24 hours before making additional claims. To give other moms a chance to bask in the glow of being the Best Mom in the World.
Show Off Your Best Mom Award
Show off your award with an award badge for your blog or profile. Or better yet, get yourself a t-shirt, bumper sticker, mouse pad, or one of dozens of other items to show off your new title! If you are a Zazzle affiliate, you can even earn money by selling the merchandise on your own Web site! (Not a bad idea if you want to make a post to brag about your award.)
If you need a Mother's Day gift or a gift for your mom's birthday, might I suggest a special card with extra special postage?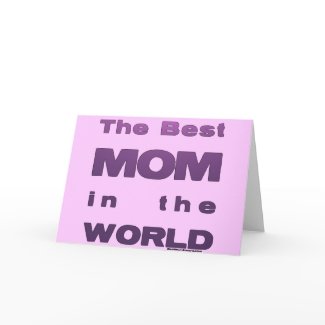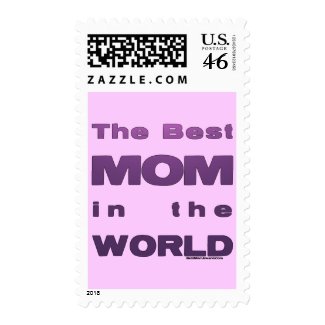 Or how about a cute shirt? (Available in a variety of styles, sizes, and colors!)
Check out even more designs and merchandise at the Best Mom Award gallery!
Plurk This Post
Buzz This Post
Delicious
Digg This Post
Ping This Post
Reddit
Stumble This Post